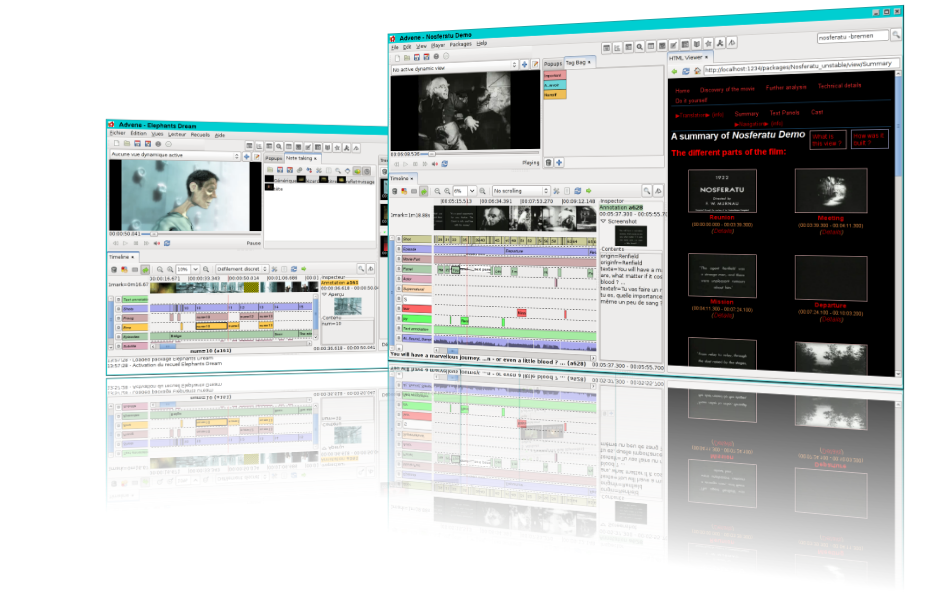 Annotate Digital Video, Exchange on the NEt (but also to be added to something or become a part of it, though inessential).
Project presentation
Advene (Annotate Digital Video, Exchange on the NEt) is an ongoing project aiming at providing a model and a format to share annotations about digital video documents (movies, courses, conferences...), as well as tools to edit and visualize the hypervideos generated from both the annotations and the audiovisual documents. Teachers, moviegoers, researchers, etc. can use them to exchange multimedia comments and analyses about video documents.
The project also aims at studying the way that communities of users (teachers, moviegoers, students...) will use these self-publishing tools to share their audiovisual "readings", and to envision new editing and viewing interfaces for interactive comment and analysis of audiovisual content. For more details, see Advene: active reading through hypervideo or other articles in our publication list. For citing Advene in a publication, please use:
Olivier Aubert and Yannick Prié (2005) Advene: active reading through hypervideo, Proceedings of ACM Hypertext'05, Sep 2005, pp. 235-244. https://doi.org/10.1145/1083356.1083405

As seen on the figure above, Advene prototype features:
At the package creation level : annotation of audiovisual documents (association of typed information to temporal fragments), creation of visualisation means (views).
Exchange of annotations and visualization modes in packages independently from the audiovisual material (images and sounds). If needed for the visualization of the data, pictures and sound clips can be extracted from the digital video support (e.g. file, DVD). The user of the data is then required to possess the video to take full advantage of the analysis and comments.
At the package use level : visualisation of augmented movie (the annotations are used to display supplementary information on the video, to control the playing of the video, to navigate the video), visualisation of hypertext documents constructed from annotation and AV material, use of ad-hoc views (e.g. timeline view).
How to contact us?
The preferred way to submit bug reports is to use the bug tracker. Usage questions should be asked in the Advene forum. You also can send us an e-mail at contact -at- advene.org (replace the -at- by the appropriate character).
If you want to be informed of the development of the project, you can subscribe to the Twitter feed.
Project members
The Advene project was launched in december 2002 by 3 members of the LIRIS laboratory of University Claude Bernard Lyon 1:
Olivier Aubert
Yannick Prié
Pierre-Antoine Champin
Collaborations
Amaury Belin
Madjid Sadallah
Bertrand Richard
Frank Nack
Jean-Claude Iehl: advice on video aspects
Norbert Ha: development of a python-vlc module
Bruno Terras: development of visualisation interfaces
Julien Bourbonnais: report on "Cognitive issues in hypervideos"
Sébastien Caudron, Anne-Sophie Pascal, Hugues Samyn: report titled Edition audiovisuelle sur DVD : film et différences locales.
Denis Jouvin: participation to Windows porting
Nadia Pitta: website, design, logo, screencasts
Alberto Fanton: FCKeditor porting and plugin development